By: Alyse Okumura, Marketing Coordinator & Isaack Karanja, Sr. Solution Architect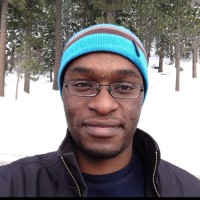 At Dasher we are extremely privileged to have a team of experienced and knowledgeable engineers. Meet Isaack Karanja, he is one of our Sr. Solution Architects and has been with Dasher for almost five years. He has over a decade of experience architecting solutions for the data center, specializing in virtualization and storage. He is Dasher's Converged Solutions lead and is certified and proficient with all of the leading technology vendors as well as the specific solution areas mentioned above. Isaack has a strong passion for developing a deep understanding of the client's business needs and then working in concert with our clients to provide them several options that will address those needs today and well into the future.  Isaack is capable of providing solutions based on hardware owned and managed by our clients or solutions that leverage cloud services offered by many of our partners.  In many cases it is a hybrid of both of these approaches that ultimately address the clients business needs.
Q&A I sat down with Isaack to pick his brain and learn more about his passions.
Alyse: As a pre-sales solution architect, what was the most interesting project you have worked on while at Dasher?
Isaack: One project I remember that was pretty cool was a higher education client that came to us  with an application that was running their entire school's information system and it was not performing adequately. They wanted to move from a 10 year old architecture to a new architecture; basically starting from scratch. The first challenge of any project as a pre-sales solution architect and the most crucial step before starting any project is truly gaining the client's trust and identifying what problem they are trying to solve (More to come in the next question).  In this case they had lost the staff expertise over the years that truly understood this application. We had to help them collect and go through all the specific application requirements from the application vendor before we could architect a new solution. We then put together a design and plan for how to migrate all of their current data because they were also planning on moving offices. The end result was that we architected a solid application that consisted of high availability and replication with site-to-site failover. We worked closely with the client to make sure the application worked with the VMware SRM (site recovery manager) solution and other applications. I think this is one of the coolest and most challenging projects I've worked on at Dasher because it touched on a wide variety of IT areas and we were able to successfully establish a great working relationship with the client.  This project evolved into a multi-year solution and because of our great success on the first phase we have been asked to architect other solutions for the campus.
Alyse: What is one of the biggest challenges you see as a pre-sales solution architect?
Isaack: Finding out what the client really needs is my biggest hurdle.  Like the project I described above, gaining the client's trust and diving into the root of the requirements are the most important parts of being a successful solution architect.  The way we do this is by sitting down with our clients and accurately identifying what they are trying to achieve. Often times, they just come to us with technical requirements such as "we need  20TB of storage". The first question I ask is "Which application will this storage support?"  Other questions I like to pose to clients are, "Is this application protected via backup or replication?" or "How much growth are you expecting in the next five years?" When presenting a solution to the client, we take the time to educate them on multiple different types of solutions that can support their application. We know there is not just "one" type of infrastructure that can solve a problem.  Also, when a client tells us they have a storage problem, we step back and look at the total environment because most business initiatives touch multiple parts of IT.
Alyse: What technology trends do you see in the marketplace that you find most interesting?
Isaack: The first major industry shift in a long time happened about 10 years ago with compute virtualization where VMware revolutionized the industry. Next came shifts inside the data center with the automation of storage and networking. When I first started in the IT industry, to make your system work it was a manual process, for instance a lot of time was spent physically racking gear in your data center and making it usable for your application. Today that manual process has been replaced by automation and intelligence being built into systems like storage arrays. Now the trend of automation is becoming integrated into every other part of the data center including networking, where software-defined-networking emerged. Now the shift in technology is going back into the data center where cloud has evolved. Within the last year, everyone thought there would be 1-2 big cloud vendors and everyone else would disappear, in fact that did not happen. Cloud adoption is rapidly growing and we are all seeing that in both the public and private cloud space.  For example, I have been investing my time to understand OpenStack solutions so that I can help our clients stay on the leading edge of cloud technology trends.  Technologies like Docker and Mesos are other exciting areas.
Alyse: What are some of your hobbies outside of work?
Isaack: I am very passionate about educating the youth in science and math. I think everyone should be a scientist!  My wife and I volunteer in our church by mentoring high school students with college applications. Kids are our future and I want to help them be successful!