By: Chris Stewart, Account Executive & Bill Jones, Sr. Solution Architect
As the cost of new product development continues to increase, it has become imperative to provide ways for companies to develop solutions using fast prototyping tools like simulation and 3D printing. More computing resources are being applied to these areas of product design and many companies are turning to solutions like High Performance Computing (HPC).

In late 2013 Dasher started forming a relationship with ANSYS, a leading ISV in the SW Simulation marketplace.  Over the past year we have worked with several clients implementing ANSYS based HPC clusters and recently we worked with a client that is using ANSYS software to simulate mechanical and fluids analysis for a new product they were creating.  ANSYS provides a suite of engineering simulation software applications that enable organizations to assist with accurate predictions of how their products will operate in real world scenarios. This software can be utilized by a plethora of industries, including aerospace, automotive, electronics, semiconductor, manufacturing, consumer products, healthcare and many others. Today, we are going to share a mini-case study where we helped a client scale up their ANSYS environment to reduce their time to market and thus accelerate their time to revenue for a new product.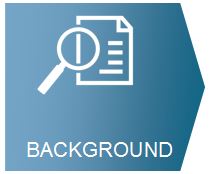 Previously our client used individual HP workstations to simulate their designs and it took many hours to run a simulation.  They came to Dasher seeking best practices help in designing a compute cluster to scale their simulations and reduce turnaround time.  They had a general idea about HPC clusters, but weren't sure how to get started with building a cluster to meet their current and future needs.  They asked for Dasher's help architecting a scalable "grow as you go" solution that could process simulation jobs faster. The client also wanted to be able to visualize their models remotely, as well as ensure their workflow in running simulation jobs on the cluster would be similar to the way it was in on the standalone workstations.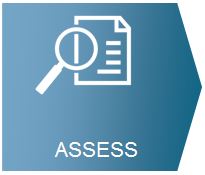 We worked with the client and leveraged our partnership with ANSYS and HP to perform an assessment on their environment and the application use cases.  The first part of the assessment was to thoroughly understand their workflow and what ANSYS tools they were using.  We discussed the use of GPU cards to reduce compute time and offer visualization services to their internal end users.  We analyzed the types of simulation models in use and compared different hardware architecture options to determine which would be the best fit for this client's application usage.  Since the client was using multiple ANSYS applications, primarily Mechanical and Fluid Dynamics (CFD), the best practice architecture included a balanced combination of CPU core count, RAM per core, GPU acceleration, and solid-state disks.   During the assessment we also determined that their current environment required many file transfers to move simulation files from their desktops to the engineering workstations that were licensed to run the ANSYS software.  This file transfer activity created delays and large amounts of network traffic, which the client wanted to reduce or eliminate.  Another of the design goals was to maintain their workflow to match as closely to what the engineering teams were familiar with. Based on this architecture and the estimated improvement in turnaround time, we created a business plan which the client was able to take back to their executives to present the ROI and obtain final approval to proceed with the project.
The solution we were looking to implement, which I will describe shortly, is based on an HPC Cluster running Linux.  This client did not have Linux experts on staff and therefore we also had to address ongoing management of the cluster in the solution offering.  We brought in our partner X-ISS, which is a company that provides Managed Services and Proactive Analytics Analysis for High Performance Clusters to ensure that the cluster would continue to run at peak performance for years to come.  To eliminate file transfers and enable remote model visualization, pre-, and post-processing, we provided remote access to the cluster using a solution from NICE Software that included Desktop Cloud Visualization (DCV) and EnginFrame.  This combination of software enabled the end user to maintain a familiar workflow as they moved from interacting with a single local workstation to a remote HPC cluster.  A sample diagram of the solution components are shown in the diagram below.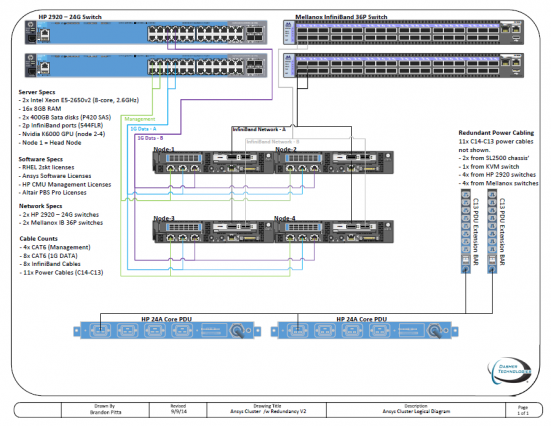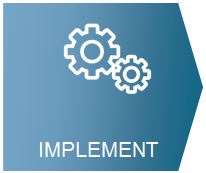 The implementation phase of the project took under 2 weeks.  This included physically installing and configuring all of the hardware, operating systems and applications for the client.  Installing and configuring the software components and training the client took the majority of the implementation phase.  Dasher worked with X-ISS for final configuration of the software stack to efficiently run the cluster environment.  This included Red Hat OS, ANSYS Software, HP Cluster Management Utility, NICE DCV and EnginFrame, and Altair PBS Pro.  Because the client did not have staff with the expertise in Linux and running HPC clusters, they chose to invest in the managed service from X-ISS.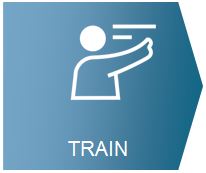 As part of the deployment, Dasher and X-ISS provided knowledge transfer and in depth training on how to interface with the new HPC Cluster and who to work with when future issues arise.
The Managed Service includes quarterly briefings with the client on the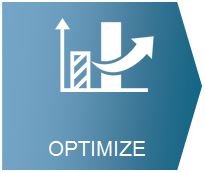 health of the cluster, all firmware updates and software updates needed to keep the cluster running at top performance  as well as remote management as needed to address ongoing operational issues. The Managed Service offering also provides the first line support for all issues related to the cluster.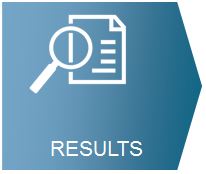 The client was looking for a solution that would grow with them as their company expanded operations.  They needed a turn-key solution that was set up and ready to go quickly and would scale with their future growth and requirements from other development teams within the company.  The cluster solution is scalable to support more hardware and software capacity to run more jobs in a shorter period of time or to run larger jobs on more nodes.  The managed services offering will help them plan for growth because the client will have the metrics they need to make informed business decisions going forward.
Contact Dasher, if you are assessing HPC in support of ANSYS solutions.  We are here to help create a complete, hardware, software and services solution that will get you up and running fast and keep you running smoothly in the future.
More Resources:
Dasher Services
Dasher Solutions
ANSYS
X-ISS
NICE Software DCV Products
HP | HPC Starter Kit for ANSYS Environment