By Chris Saso, Chief Technology Officer
Inside the Interactive Dasher Technologies IT Innovation Lab
Do you test drive a car before you buy it? Sample a few color swatches before repainting your whole house? Try on that new jacket or pair of shoes before making the purchase? It makes sense to try before you invest. With that in mind, Dasher has transformed our old demo lab into a true business enablement center, where we host the most advanced cyber security and hybrid cloud solutions. This enables our clients to learn about new technology and processes, before implementing them in their own production environments. Clients gain unique insight into the operational efforts required for product integration before committing people and budget.
You may be surprised to learn that enterprises spend an average of $6,400 per employee each year on IT solutions. Enabling new nimble business processes such as adoption of cloud offerings is largely dependent on the ability to efficiently adapt to emerging technology. Therefore, it makes the most sense to thoroughly size-up new business enabling technologies prior to committing resources and dollars!
Welcome to the Dasher Technologies Innovation Lab
Dasher is continually investing our staff time and our budget on implementing leading edge technologies in our Innovation Lab, an on-premise data center at our Silicon Valley HQ. Our clients can experiment with leading business enabling technologies – such as next generation firewalls, endpoint protection, user and entity behavior analytics (UEBA), hybrid cloud management software, cloud security monitoring, and compliance solutions. This isn't a traditional "staged" product demo environment where solutions are showcased in a stagnant, carefully controlled environment. The Dasher Innovation Lab is a fully functioning data center and dynamic multi-vendor demo lab designed to test combinations and concepts that you wouldn't dream of attempting in a production environment.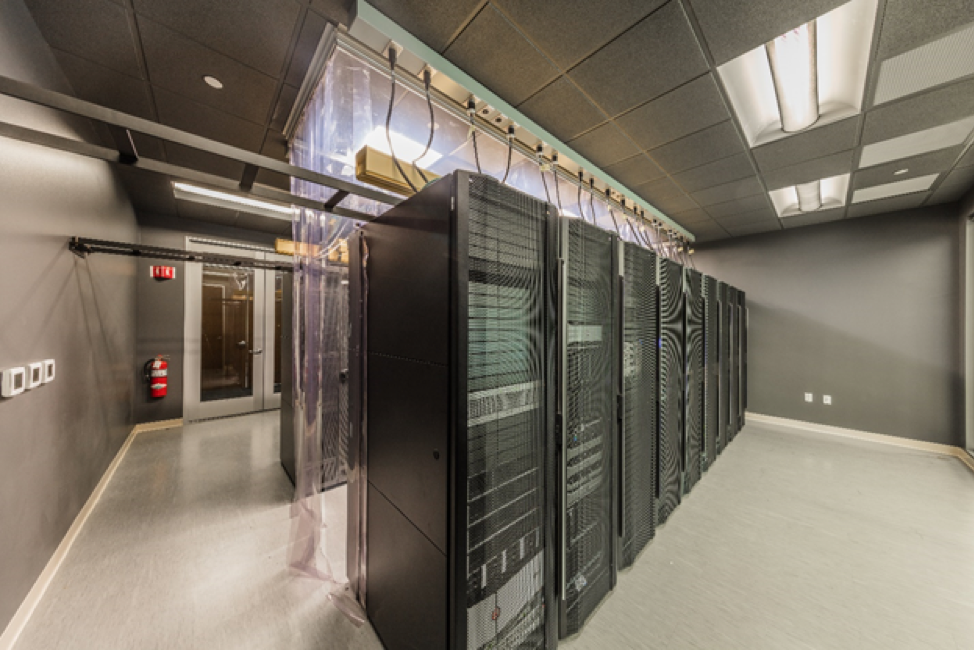 Dasher engineers architect, install, configure, and validate business solutions to fit each of our clients specific needs. This effort is repeatedly praised as a huge benefit to our clients, with the kinks and prep work taken care of long before a new solution ever reaches their environment. Our Innovation Lab plays a huge role in reducing the risk associated with our clients deploying new solutions in to production.
Recently we created a client network access control solution mockup prior to deployment. We uncovered an integration issue that allowed us to re-architect the solution prior to deployment in the client environment, thus saving weeks of effort.
"I integrate and test best-of-breed solutions for Dasher clients," said Isaack Karanja, senior cloud solutions architect at Dasher. "Solutions are often multi-vendor, composed of both widely deployed legacy infrastructure and cutting-edge technologies. Our multi-million-dollar lab continually incorporates the latest hardware and software, which is invaluable for real-world IT architecture development."
Consider an illustration of a current Dasher Technologies Innovation Lab buildout: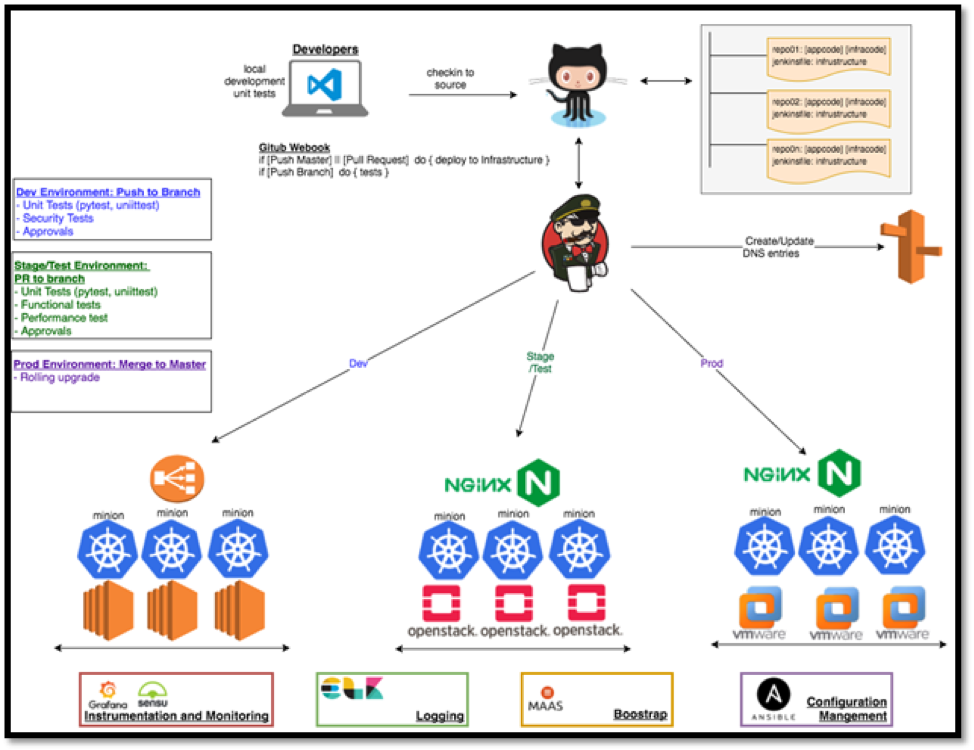 "Our lab provides incredible value by allowing us to build fully operational systems on OpenStack, Kubernetes, or Docker Enterprise using the latest reference architectures," Karanja added. "Testing these new technologies and how they interoperate with more traditional VMware and Hyper-V server virtualization is critical for our clients. And our long-standing partner relationships allow me to thoroughly test different networking topologies for hybrid cloud connectivity with popular public cloud vendors like AWS and GCP."
IT Innovation Lab Offerings
What exactly goes on in the Dasher Technologies Innovation Lab?
Hybrid Cloud Management solutions demonstrating how to migrate and orchestrate workloads between our clients private and public clouds
CyberSecurity solutions to address CIS Top 20 Critical Controls
DevOps solutions as noted in the graphic above
Next Generation Firewall solutions linking private and public firewall solutions
Network Access Control Solutions
Dasher Technologies seeks to serve as a VAR (Valued Added Resource) to your staff. I invite you to schedule time in the Dasher Technologies IT Innovation Lab by reaching out to your Dasher account executive or contacting me directly at [email protected].