By: Chris Saso, EVP of Technology, Hallie Barnes, Marketing Coordinator, & Ryan Day, Senior Solution Architect
Dasher Technologies continues to build partnerships in order to provide the best solutions possible to our clients. Take a look at our partnerships in the OpenStack Ecosystem.
OpenStack Ecosystem
For those of you thinking about implementing OpenStack in your company, take a look at this blog post from 2014 where our Dasher engineers explore the question "…is OpenStack the right solution for you?"
We have several distributions of OpenStack and overlay networks running in our demo lab and we would be happy to educate you on the offerings while you enjoy a cappuccino at our office!  The ecosystem is expansive and we have attempted to capture the "players" in this space in the graphic below.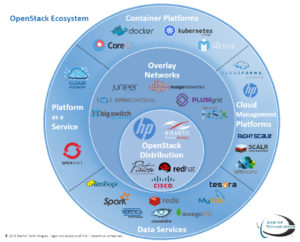 Please click on the graphic for a larger view.
Graphic content by Ryan Day.
In this blog post, we will give a quick summary of the four main partners that supply supported OpenStack Distributions. In future blogs, we will discuss other pieces of our OpenStack Ecosystem graphic.
Dasher is a long time HP partner and has a deep understanding of their HP Helion OpenStack family of products. HP supports both industry leading open source projects: OpenStack and CloudFoundry – HP Helion OpenStack and HP Helion Development Platform respectively. Helion OpenStack includes a number of complimentary open-source technologies for things like monitoring and log search capabilities. Offering multi-hypervisor support for both KVM and VMware vSphere, HP also supports both open-source software-defined-storage using Ceph and array based storage where the appropriate OpenStack drivers are available. As you might expect, HP Helion includes support and technical assistance just like any other commercial software product.
You can check out what is new in the Mirantis OpenStack 6.0 release. Mirantis delivers completely open source cloud software with commercial support while being easily deployed and managed via Mirantis' own open and extensible cloud life-cycle management framework called Fuel. They'll also help integrate non open-source technologies like VMware vSphere and array-based storage where the appropriate OpenStack drivers are available. Mirantis is moving from a software services provider to a product vendor, where they offer a stable, consistent distribution with follow-the-sun support. Mirantis offers excellent training and has the first-mover advantage with the most highly trained support, sales and services folks in the industry.
Piston takes a software only turn-key approach to deliver robust, highly available OpenStack based clouds. They particularly excel in situations where ease-of-deployment, density and utilization are major design factors. Piston deploys OpenStack in a "Hyper-Converged" approach where each and every node provides compute and storage capacity, in addition to a distributed control plane, which eases the deployment and management of an OpenStack cloud. Check out our YouTube video on deploying Piston software. Piston's CloudOS 4.0 now supports the Apache Hadoop and Spark frameworks in addition to OpenStack, with coming support for container platforms such as Docker Swarm, Google Kubernetes and Mesosphere. They have taken a path to differentiate themselves from solely an OpenStack platform vendor by extending their runtime environment to work with other open-source frameworks and container platforms like those mentioned above.
On June 3rd, 2015, Cisco announced their intent to acquire Piston and IBM announced their intent to purchase BlueBox, so stay tuned for more developments in this space!
Red Hat aims to deliver a hardened enterprise grade code-base from which to deploy an OpenStack private cloud with global commercial support- exactly what it accomplished with Linux. About 10 years ago, Dasher helped our clients migrate from legacy UNIX based systems to Red Hat Linux. We see the same ability for Dasher to assist clients in their understanding of and migration to OpenStack. Red Hat supports open source projects and enables companies to be successful in their adoption of open-source technologies. They have a large portfolio of solutions that compliment their OpenStack platform such as software-defined storage via Red Hat Gluster and Ceph Servers, a cloud management platform called CloudForms and one of the largest open PaaS platforms called OpenShift.