By Chris Saso, EVP Technology & Hallie Barnes, Marketing Coorindator
Introduction
Dasher's User Technology Forum is an event we put on every year in March to bring together over 200 IT professionals to network and share information with each other. We provide a forum for our engineering staff to moderate topics that are of interest to our clients. This year we focused on security, mergers and acquisitions and cloud sprawl, management and orchestration.
Watch the highlight video here.
Watch the partner and client testimonials here.
Though my kickoff speech was delivered using PowerPoint, the rest of the afternoon was driven by a mobile application we used to engage the audience. The app allowed us to post questions and receive instant audience feedback to guide the discussion. For example, during the M&A solution track, we had intended to talk about how the consolidation of IT supplier companies has impacted our clients, but in fact the topic turned toward how our clients deal with M&A activities within the companies they work in. Because of the interactive Q&A format, we were able to shift the conversation quickly to what people wanted to talk about!
There was one more area we relied on PowerPoint. We included our Rapid Fire Sessions again this year to give our clients a quick 5 minute taste of what is new from a number of our vendor partners. We heard from Aruba Networks, SolidFire, PulseSecure, Tintri, Fortinet, Xirrus, NexGen Storage, Nutanix, Nasuni & Hewlett Packard Enterprise.
There is no such thing as a free lunch and hockey game, so I want to thank our sponsors once again for enabling us to host our great clients for an informative and fun day.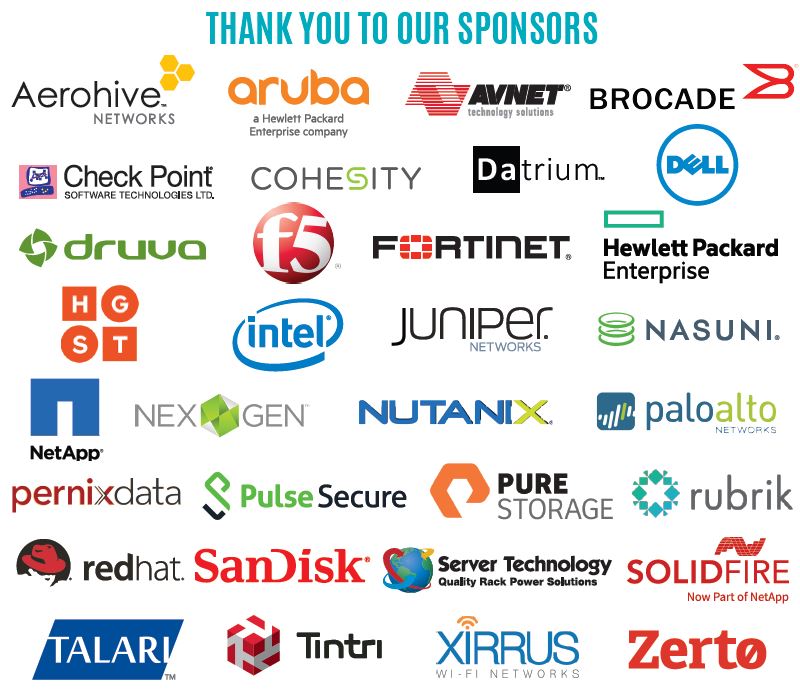 Solution Tracks
Keynote with Chris Saso, EVP Technology
I started off giving logistics of our day at San Pedro Square Market and then shared a quick overview of Dasher Technologies. We tested out the mobile app with the following couple of questions. Of course we were having a bit of fun with the first one to get things rolling. I snuck behind the podium and put on a Donald Trump wig and hat and moved on to the first question.
Who are you going to vote for in the primaries?
Are you a Dasher client?
Have you used Dasher Services?
Solution Track #1 – Cyber Security: The Dasher Detection
We invited solution architects Patrick Masciocchi & Robert Hilton, and account executive Lucas Melcon to the stage to discuss cyber security. We covered next generation firewalls last year so we thought it would be interesting to focus on how people are securing their laptops and mobile devices when they are outside the firewall. Patrick put together a simple "SanPedroFreeWifi" hotspot that routed people to the internet and was able to show that over 50 people connected to that wireless network. We demonstrated that even those of us in the IT field are not immune to unsafe security practices. Don't worry, we did not collect any information! Below are the questions from our first Solution Track and the general consensus.
What is BYOD?
Did you connect to the San Pedro Square Market wifi today?
How does your company protect laptops outside of your network today?
What happens if I walk into your office and plug in a device to your wired network?
Solution Track #2 – Industry Realignment: Expansion, Consolidation or Confusion?
This is the first year we invited our EVP of Sales, Al Chien to the stage. He was joined by Rob Poole, account executive, to discuss M&A activities. This topic turned quickly toward how IT folks deal with their own company being acquired and/or how they are impacted when they are the acquiring company. We found that most of the audience was much happier and had an easier time when they were the acquiring company and almost everyone felt that being acquired was a major hassle and headache, followed by extra work. We talked about the audience's preferences when working with startups and well established companies to get an idea of how our clients would like to have Dasher work on their behalf. Should Dasher be looking at every new startup, or should we focus on understanding solutions offered by only major manufacturers? It was a mixed bag of answers…
Which of the following M&A/separations was more impactful to your business?
How has the increase in the number of startups impacted your effectiveness?
I prefer to work with companies that are…
When a startup is acquired by a larger company, does this have an impact on your business?
How many M&As and separations in the high tech industry happened in 2015?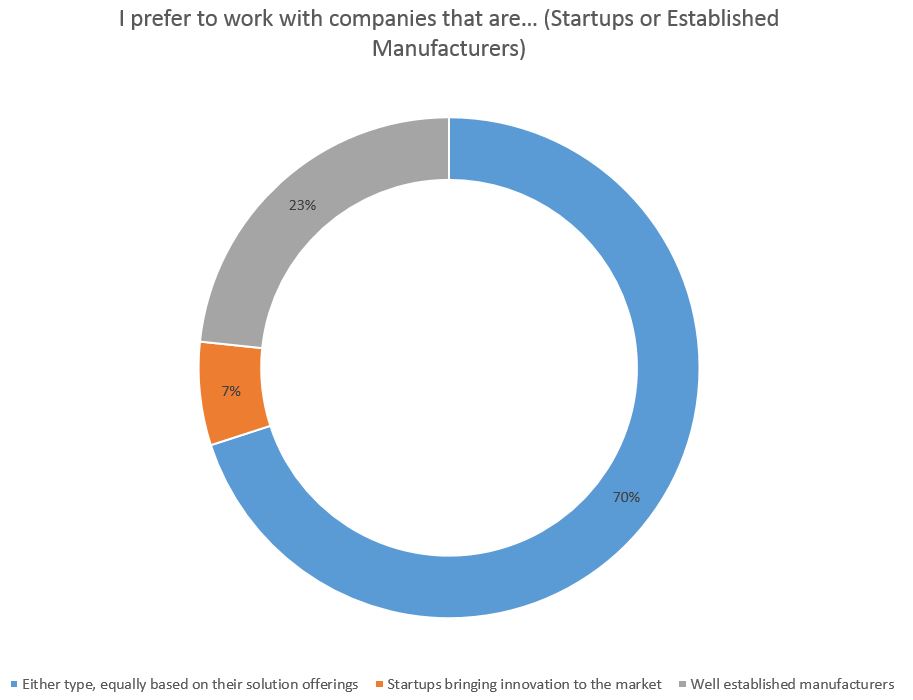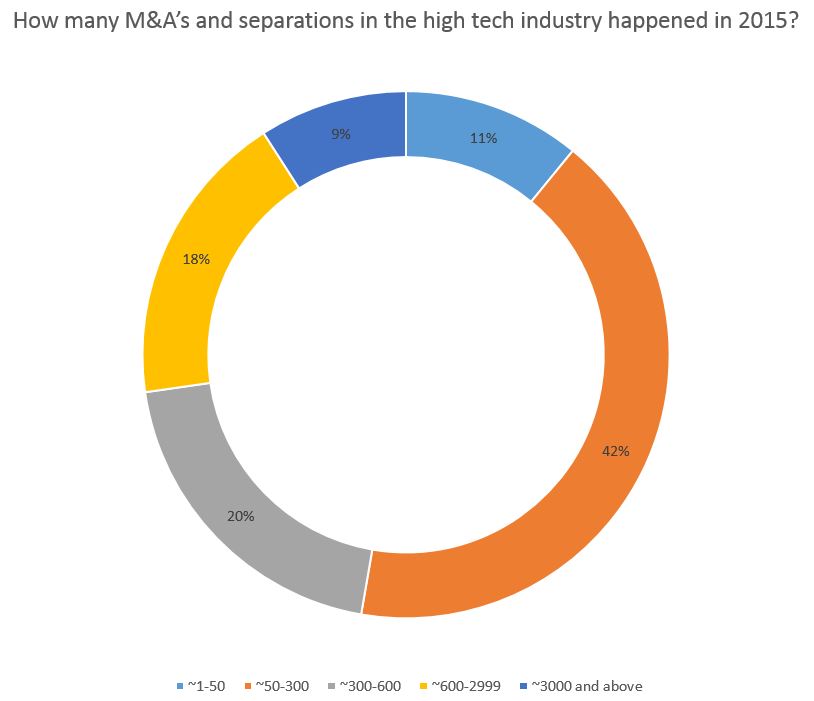 *The answer is 3000 +!
Solution Track #3 – Solution Alternatives for Cloud Sprawl
In our final session, we defined and discussed cloud sprawl. The hardest part of this discussion was actually defining what cloud sprawl means. For many people it means the use of many different cloud offerings, like DropBox or SalesForce or O365, etc. There are so many cloud offerings to choose from and to manage that people felt this sprawl was impacting their effectiveness. For others we addressed the use of cloud sprawl in the form of their own company offering, for example the use of AWS or MS Azure to develop or provide their solution to their clients. It is clear that in this case cloud sprawl meant that there are so many departments within their company spinning up virtual machines that in order to manage them they need help in the form of management tools. The track went on to discuss how this is a maturing marketplace with no clear leader yet.
Does your company use public SaaS applications such as email, CRM, ERP, HP, Google or Backup etc?
Does your company use public cloud as part of your product or service offering (IaaS, PaaS) or in development of your product or service?
What does cloud server and storage sprawl mean to you?
Is cloud sprawl a problem for your organization?
My company is using cloud orchestration tool.
My company uses ______ for cloud orchestration.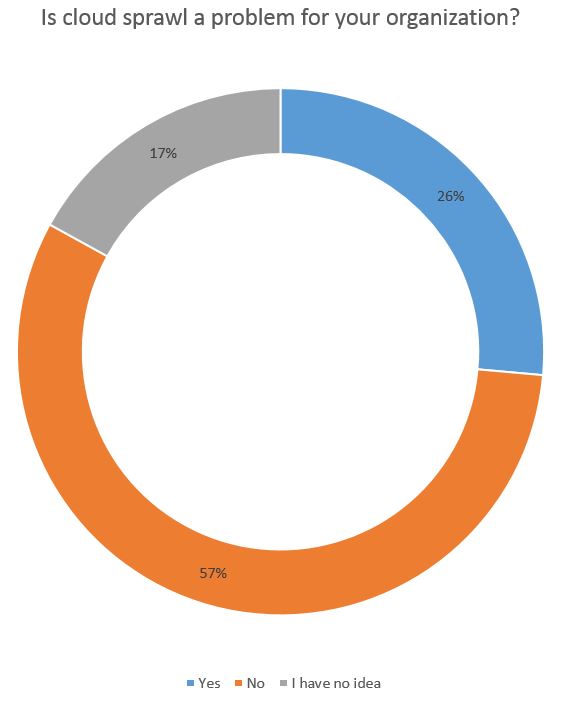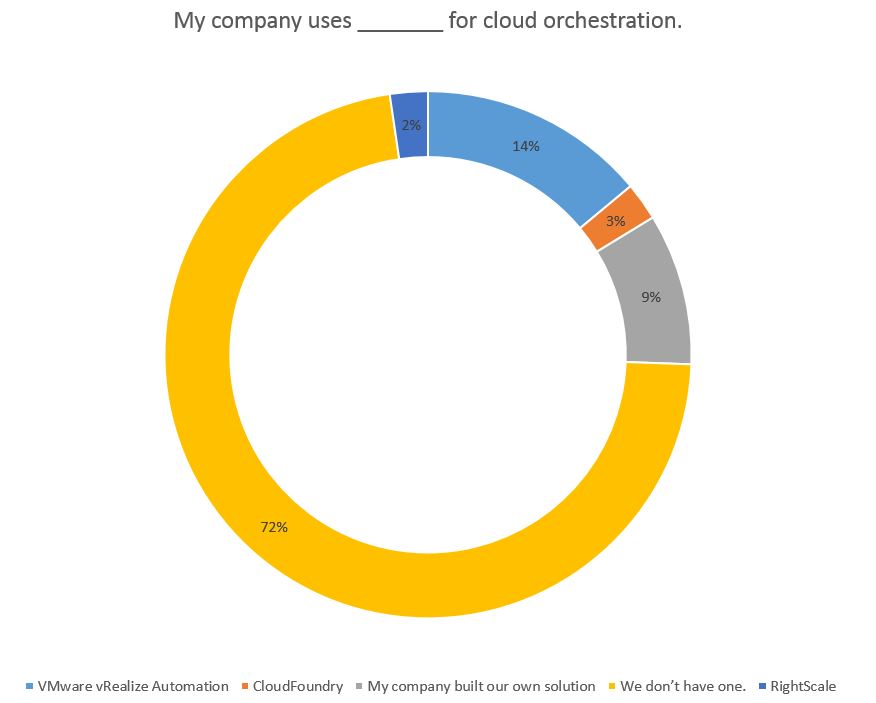 Sharks vs Devils NHL Game
Over 200 Dasher employees, vendor sponsors & guests walked the few blocks to the Shark Tank to watch the San Jose Sharks lose a close game to the New Jersey Devils. We enjoyed great food and drink and relaxed while we watched our very own San Jose Sharks march to the playoffs.
For pictures of this event please find them on our Facebook page. If you would like to see all the results of our polling or are interested in attending next year, please let us know by emailing [email protected].