Top Silicon Valley executives explore today's toughest IT challenges
Al Chien, President, Dasher Technologies
Dasher Technologies, a leading national IT solutions provider, held its annual 2018 Executive Forum at the Ritz-Carlton in Half Moon Bay.
According to our top industry partners, the IT industry is evolving faster than ever —  faced with an ever-increasing number of connected devices as well as a host of emerging cybersecurity threats. Strategic planning and disruptive technologies dominated discussion at the Dasher 2018 Executive Forum.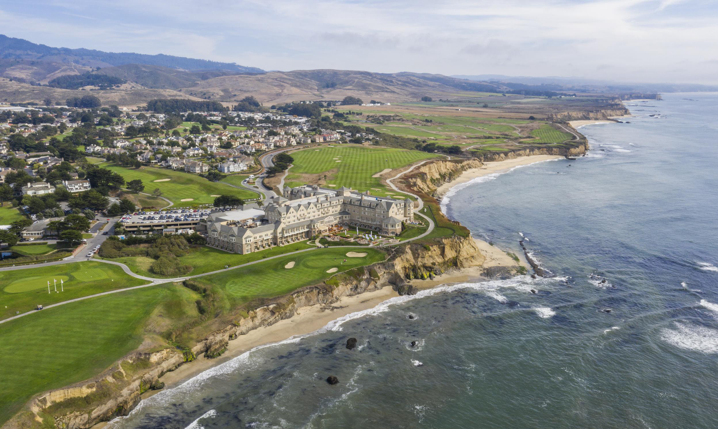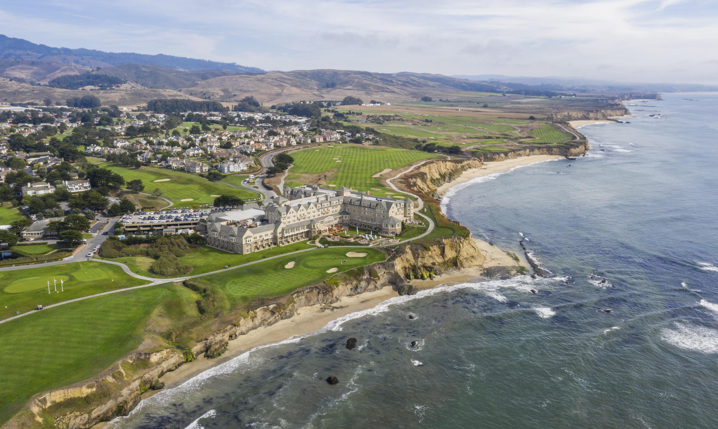 Dasher gathers its clients and partners each year at its Executive Forum to explore emerging trends in digital transformation.
The beautiful Ritz-Carlton Half Moon Bay resort on the California coast served as the setting for two days of client interaction with our IT experts and top industry partners such as Aruba, Cohesity, Darktrace, Equinix, Gigamon, Hewlett Packard Enterprise, Ingram Micro, Nasuni, Okta, Palo Alto Networks, Platform9, Splunk, and Veeam. Leading Silicon Valley executives discussed the future of IT and shared critical industry knowledge to support them on their IT journeys.
Here are five key highlights from Dasher's 12th annual Executive Forum:
The intelligent edge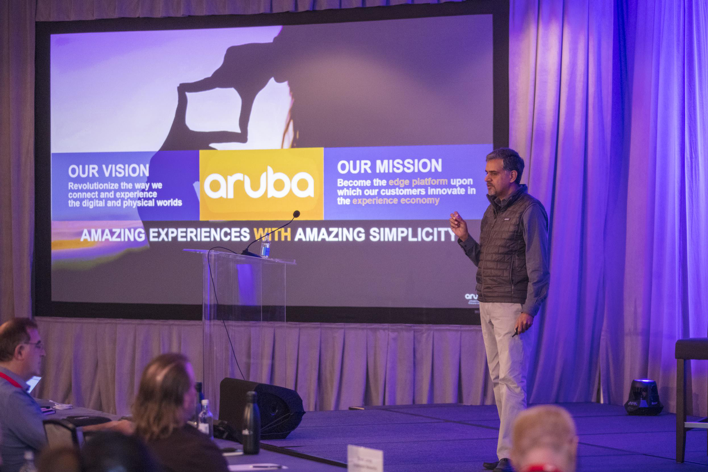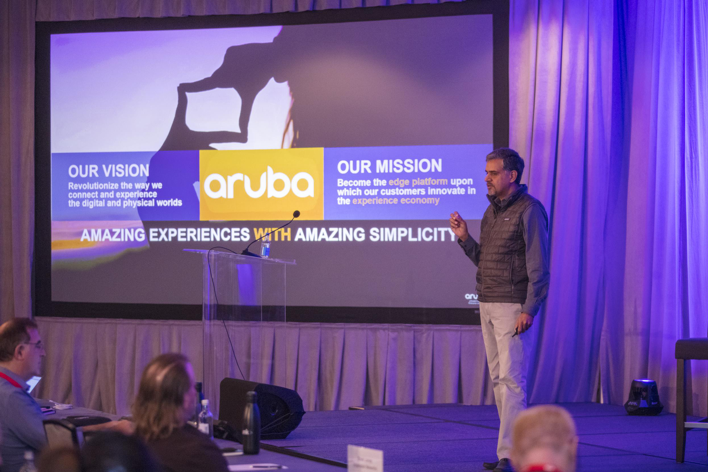 Keerti Melkote, President of Intelligent Edge and Founder of Aruba Networks, discusses the intelligent edge at Dasher's 12th annual Executive Forum.
"In this world of mobile-first and cloud-first enterprise, what's the role of the edge?" Keerti Melkote, President of Intelligent Edge and Founder of Aruba Networks. "What's the role of IT? What's the role of organizations that are delivering services to end users?"
More and more applications have moved to the cloud, and most digital consumption is now happening on mobile devices (which extend beyond smartphones and laptops to include watches, speakers, cars, or whatever "intelligent" device happens to be on hand on the go).
Due to the increasing number of malicious insider and IoT-based attacks, Aruba and HPE are prioritizing mobile connectivity protection at the "edges" of networks, where the real world meets the digital. Melkote explained how keeping networks and sensitive assets safe in the digital realm is reliant on a company's secure connectivity at this "intelligent edge."
Furthermore, Melkote detailed how digitalization has consumed commerce. "There is no such thing as a brick-and-mortar business anymore. Every business is going to be disrupted," he explained. "In a decade, if you're not digitally savvy and digitally enabled, you're not likely to be in business. That is the reality of digital disruption."
IT in flux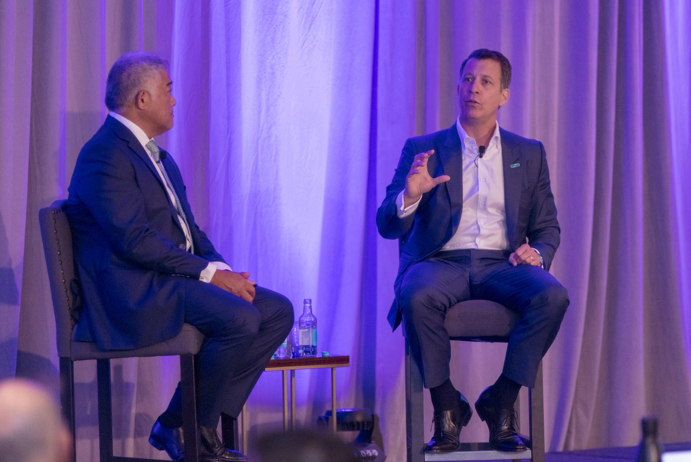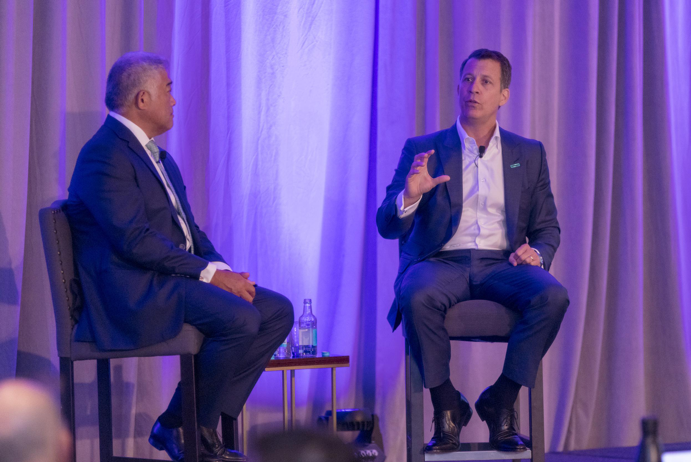 Dasher President Al Chien discusses the trends Hewlett Packard Enterprise is betting on with HPE Chief Sales Officer and President of Hybrid IT Phil Davis.
Keeping customers is a primary objective of successful businesses, and HPE's Chief Sales Officer and President of Hybrid IT Phil Davis aims to keep his customers satisfied. "We've made huge progress, but there's still opportunity to improve," Davis said, "If you have fully engaged employees and delighted customers, the P&L will take care of itself."
Secure IT systems are also becoming inextricably linked to business outcomes, according to Davis. Intelligence for cybersecurity will continue to be a focus for HPE, as will infrastructure flexibility.
"The digital economy is built around speed and agility," Davis noted. "We believe the world is going to be hybrid. When we talk to customers, those that rushed into the cloud are seeing that some workloads work better on-prem. There's this whole concept built around the right mix."
Davis revealed why HPE is currently betting on intelligence at the edge, data centers, and security, and discussed how IT is constantly transforming to keep up with the fluid digital world. Coping with it all requires tightly coordinated cooperation, and Davis left the audience with an understanding of HPE's vision for channel partnerships and strategic alliances, investments, and future growth opportunities.
Cybersecurity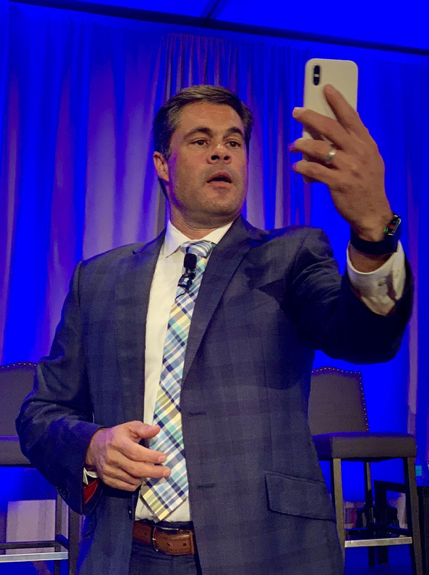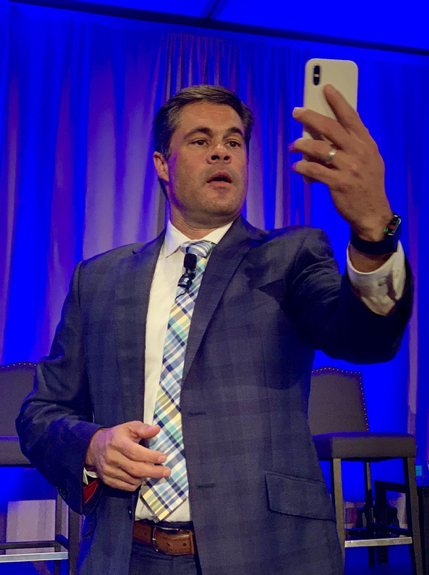 Not long ago, John Sileo's identity was stolen and used to embezzle $300,000 from his clients. The exposure destroyed John's career and consumed two years of his life as he fought to stay out of jail. Who better to help Dasher Executive Forum attendees explore the ramifications of a data breach?
Cybersecurity begins with actual people and the steps they actively take to prevent data theft. "If a Russian cybercriminal hacked your personal data out of yet another corporate database, would you take it personally?" asked cybersecurity expert John Sileo.
Sileo provided a crash course in protecting sensitive data and navigating the confusing web of cybersecurity. He also performed a jaw-dropping live demonstration of just how easy it is for a hacker to gain access to personal information.
He reminded executives that building secure systems requires tenacity, and "security reflex training" is necessary to keep private data private.
"How many of you ever had a credit card compromised?" Sileo asked attendees. "I never took what I experienced personally and applied it professionally. Take it personally."
Digital transformation objectives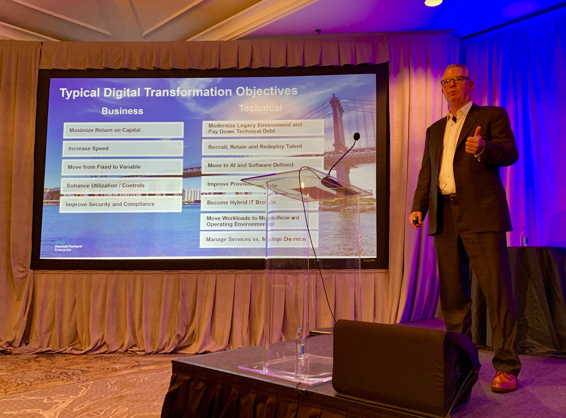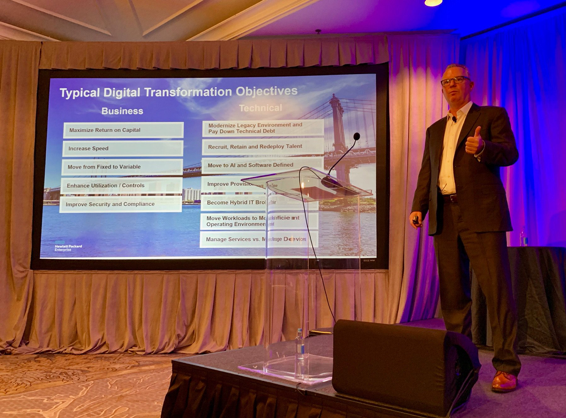 Charting the typical digital transformation objectives of HPE customers, courtesy of Dave Twohy, Vice President of Pointnext Sales North America, HPE.
"How do we get really practical about digital transformation?" asked Dave Twohy, Vice President of Pointnext Sales North America, Hewlett Packard Enterprise. "The one universal truth that I have observed… everybody is transforming. It doesn't matter what industry you're in."
Challenged by unparalleled and unprecedented digital growth, IT executives must focus on continued innovation. Leveraging more than 15 years of experience at HPE, Twohy shared how customers can accelerate, simplify, and "de-risk" digital transformation journeys.
"IT has to respond," he said. "We don't have a choice."
He noted that 85% of IT resources are currently focused on keeping the lights on, instead of innovating. We know that core IT budgets are shrinking, so driving innovation and speed requires customization and hybrid approaches.
"Somebody must be responsible for digital transformation in organizations," he explained. "IT departments are moving away from managing things and towards to driving services and experiences. Moving to subscription-based models is the top trend, with payment models based on actual IT usage."
IT methodology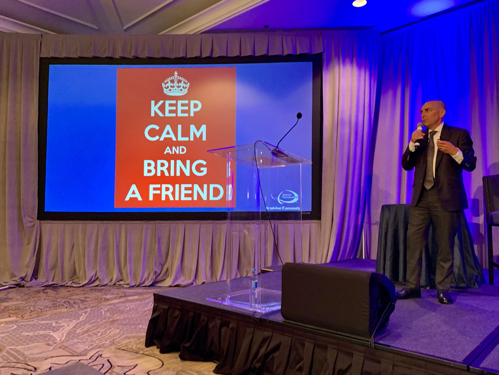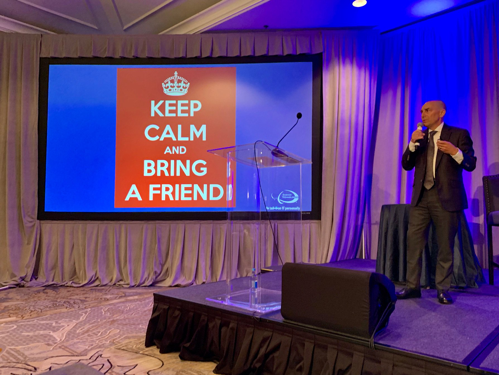 Dasher's Chief Technical Officer Chris Saso led the 2018 Executive Forum solutions architect panel.
Dasher Chief Technical Officer Chris Saso led a team of engineers in sharing insights drawn from their extensive IT infrastructure experience. Dasher's expert engineers explained how each client project starts with creating an IT plan leveraging the right technology to achieve their specific business goals.
Saso also outlined Dasher's signature four-step approach to client service:
Assess – Dasher crafts a thoughtful solution by first understanding your business goals. We assess your current situation to fix your IT challenges.
Architect – Dasher designs a unique solution to maximize your ongoing success.
Implement – Dasher implementations set the standard for white glove service through the trusted work of our expert engineers.
Manage – Dasher helps manage and evolve your solution to ensure you continue to get the greatest ROI, even as your business needs evolve.
To connect with Dasher's expert IT team, please email info@dasher.com.