By: Hallie Barnes, Marketing Coordinator & Jeff Davitt, Senior Solution Architect
Meet Jeff Davitt, one of Dasher's additions to our Florida engineering team.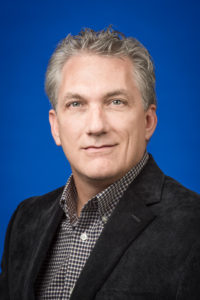 Q & A: I spent a little time with Jeff to speak with him about his industry expertise in networking and his life under the palm trees.
Hallie: Tell me a little bit about your background and how you came to Dasher.
Jeff: I am originally from eastern Pennsylvania, but the sunshine and palm trees led me to Florida. Well, there was also a great job opportunity with a banking service provider that helped me make my decision as well. I started my career with a degree in electronics performing component level repair on computer circuit boards and hard drives. My love of computers and digital electronics led me to a career in field service, initially in server hardware and network operating systems, but then I moved heavily into the networking arena. I've primarily worked in enterprise environments, very small to very large within various industries from banking and petroleum pipeline companies to supermarkets. I joined Dasher as they began to expand their networking and security capabilities in the Southeast. I feel that this role will allow me to continue to grow my life-long love of solving problems and enhancing our clients productivity through the use of technology.
Hallie: Tell me about an interesting project you've worked on recently.
Jeff: Most recently I planned, designed and implemented an extensive Aruba Networks wireless project. I find wireless to be interesting because it ties into so many different type of technologies such as MDM, guest portals, certificate stores, active directory, physical cabling, security, switching  etc. My team worked on implementing a secure certificate-based solution for all of our corporate users that allows employees to transition seamlessly during their workday from wired to wireless network access. We also provided a secure portal for sponsored guest wireless and a BYOD tier that supports our numerous development test wireless devices.
Hallie: What are your top areas of expertise.
Jeff: My primary area of expertise is data center networking, with my deepest knowledge area being the Cisco Nexus product line. I focus on enterprise network and security architectures and ancillary networking areas such as Cisco and Riverbed WAN optimization as well as dynamic routing and firewalling on multiple platforms. As the world becomes more mobile I have been working with clients to design more wireless solutions. Most recently completed my certification on Aruba Clearpass a leading network access control solution.
Hallie: What are a few of your hobbies outside of work?
Jeff: My latest hobby is motorcross. I'm learning how to handle the bike on the sandy Florida tracks. Personally, it's a huge adrenaline rush, and both challenging and intense. You have to be nimble and be able to control the bike to make it do what you want. I'll admit, sometimes I lose the battle. I also enjoy kayaking with the alligators on the St. John's river. Luckily, they actually don't bother you. It is very peaceful and relaxing and the scenery is so beautiful. I know, it's a bit contradictory to my other hobby.
Hallie: What industry trends do you see happening in the marketplace?
Jeff: Well there are a few: expansion of wireless networks and mobility, wide adoption of enterprise SDN, and new hybrid virtualization.
We will continue to see rapid expansion of enterprise wireless networks and mobility. We are seeing growth in the adoption of 802.11ac which is likely to drive more internet bandwidth needs within the enterprise. I am already starting to see how this impacts enterprise networks. It is driving larger internet pipes as well as faster in-path routers and security devices. Planning ahead to make sure infrastructure can handle that extra capacity will be key.
On the enterprise side, we are talking with clients about SDN. Cisco is presenting their APIC-EM. This allows ease of use with management software providing image management and configuration consistency across remote devices.
This is probably not a shock to anyone but I am seeing server virtualization continue to grow and what we are now beginning to see is different business uses emerge for both private and public cloud uses.
In my lifetime, I'd like to see expansion of 3D printing as well as the adoption of some type of holographic display technology. This would allow us to take advantage of a 3D workspace.
Hallie: What areas interests you in the technology industry?
Jeff: I haven't really delved into ACI data center network automation, but I'm not sure if it will win in the market with so many competing products. Management consolidation and network simplification is definitely an area to watch.
Hallie: What is something no one knows about you?
Jeff: I have had 14 Houses! Yes, in the past I moved around much more than now but I enjoy a change in scenery every now and then. I think part of my addiction is actually shopping for the house itself.