By Justin Harrigan, Account Executive & Chris Saso, Chief Technology Officer
No matter what political party you affiliate with, government regulations can be a good thing. In the healthcare industry, regulations are in place that ensure patient health records are secure and our digital footprint is managed carefully. The healthcare industry is a risk averse environment and has been one of the slowest to migrate to the cloud. In the past, the adoption of cloud technologies was not considered by the office of the CIO due to regulations like HIPAA and PCI Security Standards.
Over the past decade, the government allotted funds and set milestones for healthcare providers to enable electronic medical records.This investment and set of milestones drove growth in information technology departments and their crucial role in the healthcare business. If milestones are not met, heavy fines can be levied.
Dasher has a thriving healthcare practice with over 30 active clients and in 2014, we began a search for a cloud partner that would enable us to provide our clients with healthcare focused cloud options. We searched for a partner that shared our commitment to delivering the highest level of customer service with a deep understanding of the unique challenges that healthcare clients bring to IT.
Zayo Group offers our clients a choice when it comes to off premise cloud enabled healthcare services. Zayo is not only a cloud services provider, they also offer co-location capabilities and connectivity options. Together, these offerings make up the "Three C's".  Let's dig a bit deeper into each of these offerings.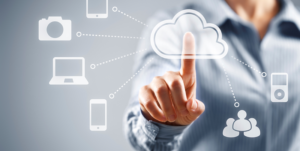 Co-Location Capabilities
When our clients are looking to add capabilities like business continuity, disaster recovery or offsite backup – just to name a few –  to their internal IT service offerings and they have "enough" experts on their internal teams, then co-location can be a good option. Zayo operates a global network of co-location facilities with 61 global sites, so chances are they are in your neighborhood. Zayo also has peering relationships and POPs in over 750 locations around the globe. They manage over 650,000 square feet of co-location space that they also own. This coupled with the connectivity solutions we will discuss later make for a great option to consider when looking for co-location facilities.
Cloud Services
If you are looking for total solutions and perhaps have a medium sized to smaller IT staff, cloud services might be a great fit for your organization. Zayo's cloud services are built on industry leading Tier 1 technology providers like Hewlett Packard Enterprise, Cisco, Dell/EMC, F5, Palo Alto Networks, Arista, VMWare and Juniper Networks. Here are a few of their services:
Managed security (firewall and SIEM)

Managed storage (REST API, S3 compliant object storage) with no data transfer fees!

Managed performance (global load balancing and performance monitoring)

Backup and disaster recovery

Healthcare specific offerings mentioned below
All services are available with three levels of remote hands tiered from the lowest level simple remote hands to smart hands (OS reloads or component upgrades), all the way up to expert hands (engineering specialists to help with complex tasks like network or application configurations).  
Zayo can offer dedicated hardware environments to ensure security. Specific healthcare offerings include managed EMR (Electronic Medical Records) and PACS (Picture Archiving and Communication System), both offered with full support of government regulations such as HIPAA, PCI, SOX & SSAE 16 type II SOC1.
Connectivity
Zayo's offering is called Connect-To-Cloud and enables secure, reliable connectivity options to connect to your business to the internet or directly to a cloud provider of choice like AWS, MS Azure, Google and of course Zayo's own cloud. Zayo offers connectivity via, Ethernet, optical wavelength service and dark fiber.
Zayo manages their fiber and therefore can offer high service level agreements to meet demanding business requirements. Latency is complicated for some applications, but Zayo provides connections all around the globe to mitigate latency issues.
Dasher prides ourselves on being able to provide total solutions. With Zayo, we found our clients in the healthcare space can benefit from "The Three C's" and receive secure, cost effective and compliant solutions in time to meet aggressive project schedules. Moving to the cloud is a journey, and together with Dasher and Zayo we have more tools and pathways to help you along the way.
If you'd like to discuss our offerings to see if they are a fit for your business requirements, please email [email protected] or give us a call at (866) 898-9506.