By Chris Saso, EVP Technology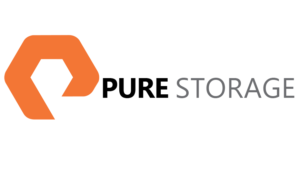 I rarely take the time to highlight a particular new product announcement from one of our valued partners, but every once in a while something comes along that truly promises to change the landscape of IT offerings, like Stephen Curry in the NBA. Even if you are not from Northern California, you have to appreciate the talent within the Golden State Warriors.
Pure Storage has lead the rapid move from spinning disk to all flash arrays. In 2011, they introduced FlashArray which brought flash storage technology to the marketplace for all block-based workloads. Pure leveraged commodity SSD Flash along with inline compression and deduplication to drive effective storage utilization such that the price of flash approached spinning media. In many use cases, the FlashArray lands below the price of spinning disk, while providing an amazing amount of IOPS.
Now let's fast forward to 2016…
With FlashArray, Pure provided a solution that transformed the industry, but it only impacted about 15% of all storage workloads. So, what was missing? File and object based unstructured storage! Over the past ten years, unstructured data has been growing dramatically, while structured data has not. Here is a graphic demonstrating what has come to be a commonplace discussion around IT departments.
Total Enterprise Data Growth 2005-2015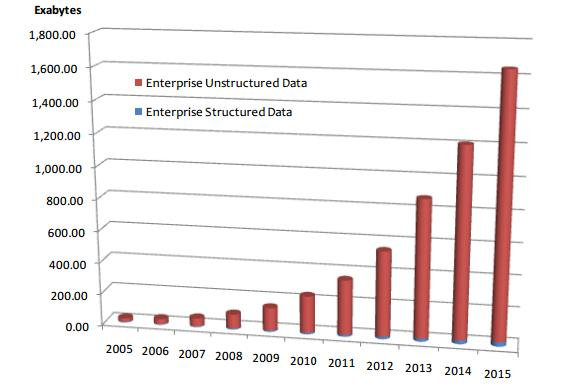 Graph by Data Science Central, "Structured vs. Unstructured Data: The Rise of Data Anarchy"
In 2013, Pure rolled out a stealth company 3 blocks down the road from its HQ to create a completely new product from scratch that focuses on unstructured data workloads. Over the past couple of years, I have been curious why there was industry talk of them burning through capital at a high rate. Like most folks, I just assumed it was because they do an amazing job of marketing their solutions and therefore spent a disproportionate amount of money on marketing. When they went public and we had a chance to see their financials, it was interesting to note that they had an unusually high R&D budget as related to revenue. I wish I was smart enough at the time to ask more questions, though they would not have told me because this was one of the best kept secrets in the industry.
In March of 2016, they announced FlashBlade at their Sales Kick Off (under NDA) and then publicly at the Pure//Accelerate 2016 a few weeks later. The rest of this blog will highlight some of the reasons it changes the game for file and object based unstructured data.
5 Reasons FlashBlade is a Game Changer
Cost Effective Storage. Let's get to the bottom line right away. If FlashBlade was fast and scalable but cost too much, nobody would buy it. We have seen other companies offer all flash solutions that attack a small niche of the market with high sticker prices. This approach will not work if you want to address the unstructured storage market. Pure has been publicly stating a price under $1 per usable GB. As of this blog, I have not yet seen a formal quote for the solution (it is still in Beta with expected directed availability in July 2016 and GA slated for Q1 of 2017), but what I am being told is that given an effective compression ratio of 3:1, our clients should see pricing under $1/GB. That seems pretty compelling when you consider that in concert with the rest of the points below. One last thought on cost- that target price of under $1/GB is for their 1.0 FlashBlade solution. Guess what happens to costs over the next few years as the cost of hardware and Flash memory drops and they add software features such as deduplication to further pack data into the FlashBlade.
Scale Out Storage. When I first heard about this concept 15 years ago, the industry was calling it "Grid Storage." Searching on Google, I found that nobody calls this grid storage anymore, but the concept of having storage nodes that connect to one another that each have CPU, Memory and I/O capabilities is a tried and true way of attacking the large scale that is required for unstructured data. The offerings from storage vendors big and small today are either 2 controller nodes with shelves of disk, or a scale out grid storage offering where you link together separate computers that are running storage software with local disk or SSD. FlashBlade combines a passive mid-plane to allow up to 15 blades to be connected via the mid-plane and it will enable the "stacking" of FlashBlades across chassis through low cost, high speed Ethernet interconnects. Other solutions in the marketplace connect every redundant node pair via Ethernet or Infiniband on a private backend network. This also holds true for many software-defined storage offerings that rely on commodity server hardware to run their software with large amounts of low cost local disk. Companies abound offer converged or hyper-converged products that attack parts of the market today. Pure built FlashBlade from the ground up using commodity hardware to address cost, but with scale in mind. Pure made a point of hiring networking specialists and computer scientists to attack the scale and computing problem that has not been addressed before.
Fast While Being Multi Protocol. Is 15GB/s in 4U fast enough for you? If the FlashBlade can truly deliver that throughput, what will happen to protocols like PNFS, GPFS and Lustre? Parallel file systems were developed in order to provide massive performance from massive amounts of spinning media. Flash changes all of that and FlashBlade along with its Elasticity OS should tackle the toughest workloads in the industry like HPC, Software Development, EDA, Oil & Gas, and Media and Entertainment.
The Key Differentiator: Custom Hardware & Software. If you look at companies that have excelled at bringing high performing solutions to market, they typically use custom hardware alongside industry standard components, like Intel processors, to deliver differentiated performance at a lower cost than their competition. As you see in the image below, FlashBlade utilizes 1xFPGA and 2xARM cores to enable them to write custom code and 8xCores of Intel System on a Chip for general processing. You will also notice that FlashBlade uses NO SAS connected SSD drives.  It is designed with PCIe connections to the NAND Flash. Pure has jumped past SAS/SSD technology because it is so much slower than PCIe. The true differentiation for any IT solution these days is the software that is at its core. "Software Defined Everything" is the key mantra and if you look at all of the successful companies that have come to market in the past decades you will recognize that software differentiates the solutions. It is the critical component that moves data over the network to your applications, and again Pure has delivered a software stack that promises to differentiate itself from other solutions. Why have there only been a few successful players in the NAS space for the past few decades? Because NAS is a hard problem to solve. Throw on top of that the rise of object storage and Pure has certainly taken on a challenge. If the initial results our clients are seeing from the early access FlashBlade releases are any indication, we think our clients will see dramatic benefits from the custom hardware and software that FlashBlade is based on.Pure Storage Blog "Introducing FlashBlade – The Cloud-Scale Data Platform of Tomorrow"
Simplicity of Operation.

 It is common knowledge that TCO factors in both the initial investment amount for a solution as well as the ongoing management costs of solutions. Pure has made it a critical piece of their culture to deliver products to the marketplace that are simple to deploy and manage. Pure FlashArray has always been an easy to use platform. The use of flash enabled Pure to remove a lot of the complexity associated with old fashioned storage array provisioning. FlashBlade continues that vision by leveraging some of the core tenants of Purity (Tthe OS from FlashArray). In the demos that I have seen to date, it is incredibly simple to operate and monitor and even this aging technology guy found it simple to provision storage and monitor performance.  
Nothing is meant for every workload or every situation, but FlashBlade should be able to tackle a lot of the highest performing NFSv3 and, by GA in Q1 2017, object-based workloads out there today. FlashBlade is new and needs to be put through its paces on real workloads. I am eager to see how it handles some of the toughest challenges faced by NAS and object based file systems today.  
Here are a few things that will need to be hammered out in the next 12 months as it is used in data centers around the world.
Can it solve the "small file problem"?

Will it truly be able to deliver multi protocols at the same time accessing the same object data under the covers?

How good will the S3/Object interface be?

Will it be cloud compatible?

Will it be able to "extend itself" into the cloud because it speaks object protocols?

How soon will it be able to support more than 2 chassis in one scale out environment (Pure says 2 chassis support will be available at GA)?

What size blades will be available in the future?

When will it support expected features such as snapshots, replication, etc?
As we move through 2016 and into 2017 I expect we will have answers to many of these questions and if their first product, FlashArray, is any indication, we expect that the FlashBlade will meet and greatly exceed the vision that Pure has shown in the All Flash Array market. 
For questions regarding this post or to request a free consultation, contact us at [email protected].