By Chris Saso, CTO
If you are a fan of the TV show Silicon Valley, you will know about the fictional startup company Pied Piper. The main character invents an amazing compression algorithm and hires a couple programmers to work out of a living room. They attempt to bring the algorithm to market with VC funding, relationships and good old fashioned networking. They have servers in their garage, use cloud services and code on laptops. Their garage data center gets hacked, so they add security to the environment. In one episode, they even deploy wireless to hack into another network.
So, how does this relate to Dasher Technologies? Well, I am not suggesting that we work with many companies exactly like Pied Piper, but in my years at Dasher, I have shown up to a couple of small offices that resemble the living room of Pied Piper and the data center in their garage. For startup clients, we have created a set of services and solutions and even formed relationships with funding sources that are tailored to meet the unique requirements of a startup. Read about the 6 IT Essentials for Startups below.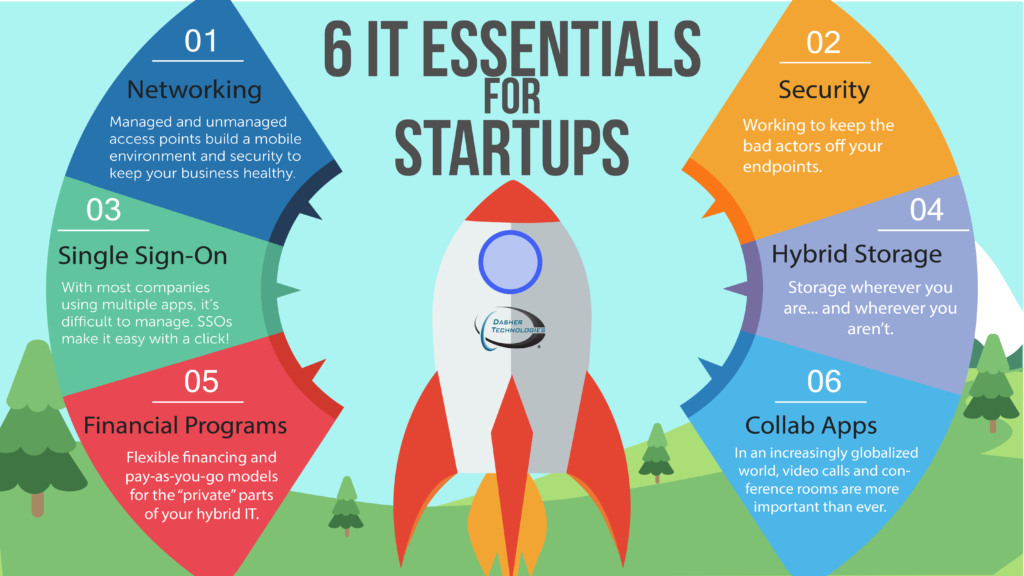 Networking
Startups need to be online quickly. We often hear, "My office space will be ready in 2 to 3 weeks. Can you get my network ready to deploy and setup over a weekend so my employees can hit the ground running on the following Monday?" In addition, startups request connection to the internet and cloud resources securely and redundantly. For example, if their connection to their GitHub Repository goes down, so does their company's "coding factory."
Security
Securing their company IP anywhere it travels is a huge issue for startups. Protecting data on laptops, at public locations where development might be taking place and behind their company firewall are all critical issues for startups. Since startups run on caffeine and laptops, planning for data loss prevention is critical and needs to be built into the DNA of every startup company. Backing up data and the ability to wipe or encrypt data on mobile devices is key.
Single Sign-On (SSO)
Another part of security is not having your employees write passwords on their whiteboards or sticky notes. Looking at identity management strategies like using single sign-on and multi-factor authentication are a must for IP rich companies. Dasher is on the same journey as our clients, as we are currently rolling out identity management solutions for our company. I already sleep easier at night knowing access to our critical cloud based systems is more secure!
Hybrid Storage
Safe and easy access to your data is critical. How do we accomplish this in a mobile world? There are so many storage solutions for different types of applications and the location of the storage is just one issue. Managing heterogeneous storage environments used to be a challenge, but now many startups are writing applications to access storage with new protocols, like S3 Object, that are more internet and application friendly. The tech industry has also seen an increase in the last couple years in the number of software startups that are have arrived to help us manage data. Moving data from expensive fast flash storage (often NFS based) to low cost object storage in the cloud, or your private object repository, is the new challenge for startups and there are new companies out there to help address that challenge.
Financial Programs
Dasher has many partners that offer hardware, software and cloud services. What is often forgotten at the start of a project is that startups want to conserve precious VC funding and would like to use pay-as-you-go or leasing options for public and private cloud services. Public cloud makes this easy, just enter your credit card information and you are investing in public cloud. For the essential IT components that require private resources, it can often be a challenge to be approved by large commercial financing companies. Dasher has relationships with many smaller financing institutions that help startups obtain the kind of financing that is unique to the individual company and at an investment point that makes sense for startups.
Collaboration Apps
It turns out that even Dasher does not have every expert on our own staff. We have partnered with a couple companies that specialize in helping startups and companies of all sizes to collaborate. Part of the total startup solution suite we offer is to consult with our clients and our partners to find the best conference room video and audio solutions in the marketplace so employees can get work done by having technology be an enabler, not a distraction. We have even partnered with companies to offer a total lobby guest experience. From logging in on an iPad, having a badge printed to notifying the host via email, to instant message and text alerts that let the person you are seeing know you have arrived. And finally, they system sends an automated email or text to the guest with their wireless credentials.
If any part of these essentials sound like a pain point for you, drop us a line if you'd like more information on how Dasher can help you get started with your IT needs.