Veeam Version 11 Is Out Now and It Packs A Punch!
By Brandon Pitta, Enterprise Architect
Quick on the heels of Veeam 10…
In a little over a year since Veeam 10 provided us a long list of critical new features including NAS backup and the Scale-Out-Backup-Repository capacity tier, Veeam 11 has dropped and hit us with another great set of features and enhancements we think you might appreciate.  Let's take a look at some of the highlights.
Hardened Repositories
With the current threat landscape including more and more ransomware events Veeam has added another layer of protection at the repository level. The Hardened Repository option provides an immutable solution capable of being the target for most Veeam jobs and can even coexist in a Scale-Out-Backup-Repository with non-immutable extents. These are Linux-based XFS repositories leveraging a few new Veeam enhancements to achieve data immutability.
Single use credentials

Eliminates SSH requirement on Linux-based hosts

Utilizes native Linux immutability flag

Respects immutability for duration of GSF retention policies
This gain in secondary storage security posture does pose its own set of limitations and considerations. Veeam Hardened Repositories are not allowed to participate in any other Veeam services including backup proxy services. Due to the nature of some backup operations, there is no support for NAS workflows or reverse incremental protection policies. 
https://helpcenter.veeam.com/docs/backup/vsphere/hardened_repository.html?ver=110
Continuous Data Protection (CDP)
Veeam has really stepped up their vSphere replication capabilities with the release of version 11 and the debut of their CDP solution. This new replication workflow brings RPOs measured in hours down to seconds using VAIO (vSphere APIs for I/O filtering) by capturing I/O at the host level, avoiding the need for VM snapshots. Veeam leverages am I/O filter driver deployed directly to the ESXi hosts avoiding the need for per host virtual replication servers. A physical or virtual CDP proxy at the source and target clusters handle data movement.
This new data protection workflow has been long awaited in the Veeam user community and it did not disappoint bringing with it an impressive set of features. 
Policy based management replaces replication job scheduling

Does not rely on VM snapshots for ongoing protection

Flexible retention allowing for the separation of long and short term restore points

Support for any OS running under vSphere

Automated deployment assistant to help estimate bandwidth

Included for existing Veeam Universal and Enterprise+ socket clients 
https://helpcenter.veeam.com/docs/backup/vsphere/cdp_replication.html?ver=110
New Archive Tier in Scale-Out-Backup-Repository
To compliment the capacity tier function in Scale-Out-Backup-Repositories (SOBR) Veeam has introduced the new Archive tier. Now Veeam is equipped with the capability to manage the lifecycle of backups between hot and archive tiers of public cloud storage. A small instance is deployed in client cloud infrastructure to act as the data mover to achieve this functionality. Currently AWS Glacier and Azure Blob Archive are available for use as SOBR Archive tier targets.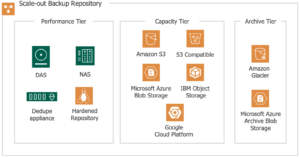 V11: Complete the Backup Lifecycle with Veeam's SOBR Archive Tier
NAS Workflow Enhancements
One of the most notable features of the Veeam 10 release was support for NAS workflows. Veeam improves on the performance and flexibility of NAS jobs with the release of Veeam 11.
Performance is improved by using multiple upload streams to source backup data. In addition, the intelligent proxy load balancing of traditional backup proxies has been brought to the NAS jobs making sure the most available resource is assigned the job. A new meta data extent for SOBR to offer a high-performance landing pad for meta data is also available. 
Manageability of the NAS data protection workflows have also been improved. It is now possible to define the production NAS server as the source for NAS backup workflows. This configuration allows for the protection of all current shares and automatic inclusion of newly created shares into the job. Individual exclusion of shares when leveraging the entire array as a source is possible. Direct NAS appliance integration with NetApp, DellEMC and Lenovo is now available. 
An interesting instant NAS publish recovery option can also be found in Veeam 11. This feature allows clients to instantly publish backed up NAS resources as SMB shares in a read-only state vastly improving recovery times. A handful of very interesting use cases become possibly with this restore model.
Expanded Hyper-V Instant Recovery
Hyper-V instant recovery has now been expanded to include any image based Veeam backup. This means you can now restore any VM, cloud instance, workstation or physical server backup to a common platform in Hyper-V. This can be extremely useful in test/dev workflows or when the immediate need for data retrieval arises.
Veeam Agent for MAC
The title says it all! Veeam workstation agent is now available for MAC. MAC OS is included in the same existing 3-to-1 workstation to VUL mapping as Windows workstations.
Licensing Changes
Below are some notable licensing changes coming with Veeam 11 for both new and existing clients.
NAS workloads have doubled from 250GB to 500GB per VUL

Socket licensing for new clients is now only available in Enterprise +

Renewals and expansion for existing non Ent+ + clients available

Veeam Starter Edition is no longer available

MAC OS agent backups included in the 3-to-1 licensing model
One thing that is not changing is the license file. Continue to use your existing Veeam 10 licensing file in place during your Veeam 11 upgrade.
Notable Odds and Ends
GCP is now available as a target with SOBR Capacity tier and NAS version archive functions

High priority job flag

Quarterly backups have been removed from backup copy jobs

File-to-Tape jobs have been expanded to include NAS server as job source

Upgrades to LTO support including Tape cloning and Restore-All functions

Native Microsoft Teams backup and item level explorer.

Veeam One UI overhaul

Cloud-native Azure data protection is now built directly into the Veeam Backup & Replication console

Azure Stack HCI support
Need assistance in upgrading or hardening your existing Veeam environment?  Reach out to us at Dasher Technologies to with planning, architecture, and professional services for your data protection needs and beyond by going to our Contact Us page.
Check out all the Veeam 11 updates here!
https://www.veeam.com/veeam_backup_11_0_whats_new_wn.pdf
This post is powered by Mix Digital Marketing