By: Chris Saso, SVP of Technology and Isaack Karanja, Sr. Solutions Architect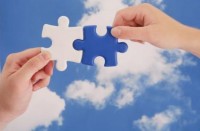 I was asked recently by a CIO friend of mine, "We use VMware server virtualization in our organization today.  What will my team need to do in order to move to the cloud?"
The short answer is "Adopt some type of Orchestration Automation."  Using popular virtualization Hypervisors is just the start of the journey to the cloud.  Microsoft, VMware, Citrix and Red Hat all have good Hypervisors that enable organizations to increase their server utilization and allow IT departments to react swiftly to requests for new compute and application resources for their internal clients. It doesn't matter if you are looking at public or private clouds, you really need to think about how you will manage them and that is where orchestration software comes in.
The main difference between virtualized data centers and clouds is the "orchestration software". This is especially applicable to IT teams who have to process repetitive requests like this: "We need three VMs, one for database, one for applications and one for our web layer all in the same network and ready to communicate".  Orchestration software can streamline the response to these types of requests and can thus greatly reduce the provisioning workload on your IT team.
Orchestration allows IT teams and end users (assuming they are given appropriate permissions) to create virtual machines and application specific stacks of compute, networking and storage resources to get a particular job done. Orchestration software is what enables a true software defined datacenter and enables the time savings and cost savings that companies are looking for. It does this by combining individual manual tasks performed by IT into a set of services that can be easily consumed by the end users.
However, understanding and optimizing orchestration software can be a huge challenge.  IT teams of the past have been used to managing physical resources and, in the past few years, have moved to managing virtual resources.  IT staff members need to learn a completely new language and adopt a new skillset in order to  recommend to their organization an orchestration software package that will meet their goals, plans and objectives for now and the future. The IT staff also needs to work together with the end users to determine what kind applications they need so that they can know how to best package them into templates that are easily consumed by the end users.
In addition to physical and virtual orchestration functions, various cloud software have additional functions that they bring to the table such as  metering and billing, chargeback and show back, resource lifecycle management, multi-tenancy, self-service portals with manager approvals, quota enforcement, etc. Some examples of cloud orchestration software that can be deployed in the datacenter available today are: