By: Scott Ancha, VP of Engineering and Chris Saso, SVP of Technology
HP is in the process of making OS Patches, software updates, drivers and firmware available only when that HP product has a valid warranty or support contract. HP is trying to align download policies with other large technology manufactures.  HP will enforce this by requiring customers to have an HP Passport Account that is tied to your system warranties, care packs and support agreements. Starting January 2014 this new policy effects OS Patches to HP-UX, Tru64 UNIX, OpenVMS, and software updates to EVAs. As of January 22nd this policy is also in effect for HP ProLiant Servers Firmware and Service Pack downloads. Other HP products will soon follow.
HP has a public link describing the overall process changes in more detail: HP Support Document
HP has started proactively sending communications to their customers regarding the changes to the download policy.  You or a systems administrator within your organization may have already received a communication from HP similar to this: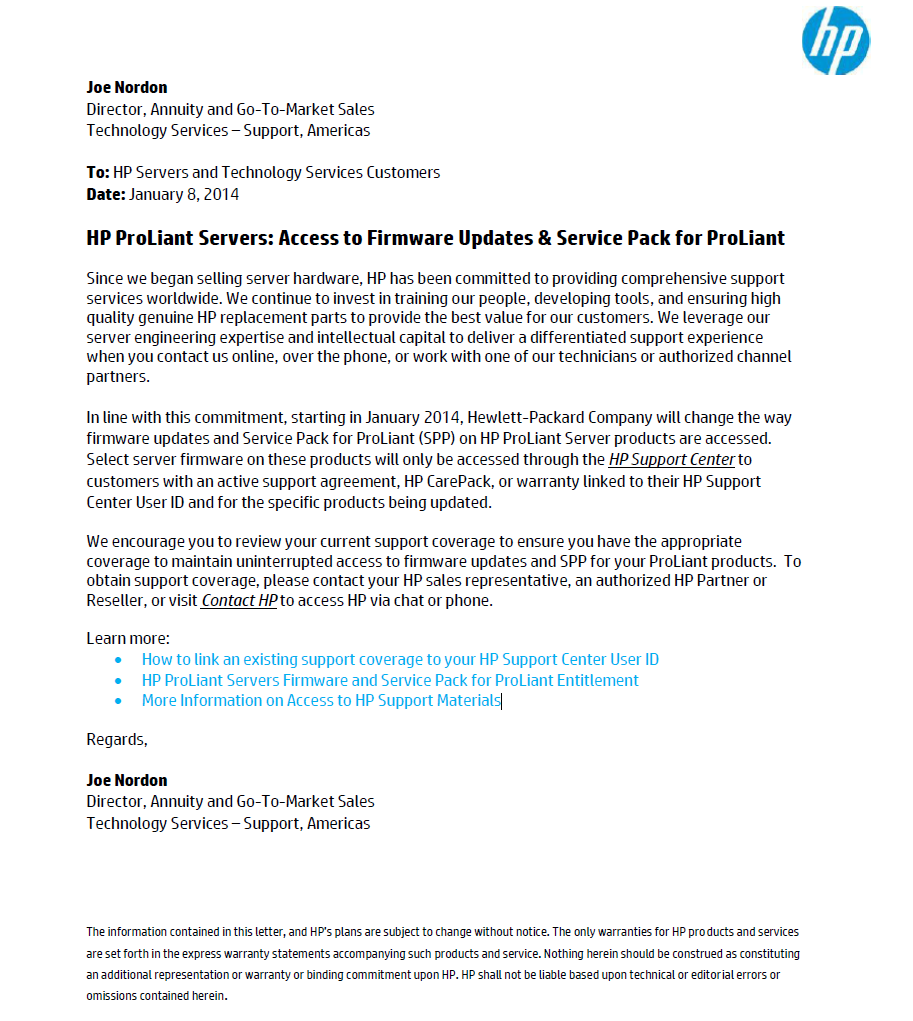 Within the HP customer message above, HP has provided several links providing more detailed information about the changes and how they may impact your organization:
How to link existing support coverage to your HP Support Center User ID
HP ProLiant Servers Firmware and Service Pack for ProLiant Entitlement
More Information on Access to HP Support Materials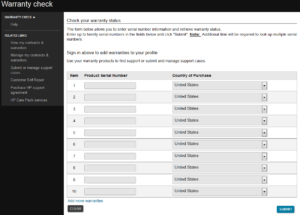 Where do I check if my product is under warranty?
Within the HP Support Center there is a means to look up your current warranty status based on the serial number of your product.  Click here to check your warranty status.  You will be sent to a screen that looks like this.
Why Now?
HP believes that entitling firmware will help customers ensure that they are getting the most accurate and up-to-date firmware downloads.  In addition, entitling firmware will prevent non-authorized service providers from accessing HP intellectual capital.  HP has created step-by-step instructions for customers to link their contract or warranty to HPSC (HP Support Center).
How to Link Contracts and Warranties to your HP Support Center User Profile to Access Protected Knowledge and Downloads
For Dasher Clients…
Contact your Dasher account team if you would like assistance in setting up your HP Support portal. We can meet with you face to face or host a web-based meeting during which we will walk you through the process and ensure you have linked your support contracts and warranties to your existing hardware and software solutions.
In a future blog we will discuss how to create co-term support agreements for HP and other vendors to simplify the management of legacy support contracts.