By: Ryan Ollenburger, Sr. Solution Architect
Here are a few updates on HPE OneView since the original blog was posted in 2015.
Notable new OneView 4.0 features:
Scope based access control

: Extended role based access control to allow authenticated user to view/modify/control a subset of system resources.

Additional certificate management features

: Extended certificate management capabilities to include support for CA signed certs for iLOs, Onboard Administrators, proxies, etc.

2-factor authentication

: Ability to use smart-cards with Active Directory authentication

SNMPv3

: Previous OneView version used SNMPv1. SNMPv1 is preserved for backward compatibility.

Boot from SAN load balancing

: Load balanced primary/secondary SAN connections from servers to storage fabric

Discovery:

Auto discovery of DL, ML, and Apollo systems based on iLO IP ranges: Eases the pain of having to add many individual non-blade servers to OneView
Notable new OneView 3.10 features:
Firmware Repository:

External SPP repository support. A single repo can support multiple OneView appliances

Firmware Updates:

Ability to schedule server profile firmware updates and reboots

Platform Support:

OneView appliance is now available for KVM and Hyper-V

Apollo Support:

Full management support for Apollo 2000, 4000, and 6000 servers

StoreVirtual:

Ability to manage StoreVirtual storage systems including provisioning volumes from OneView

Contract & Warranty:

View devices support coverage, SLA, and expiration date

Remote Support:

Ability to enable remote support at the device level rather than the appliance level
Notable new OneView 3.0 features:
RAID:

Embedded controller configuration support on rackmount servers

Apollo Support:

Apollo 2000, 4000, and 6000 supported as "monitored"

Backups:

Automated backup schedule of OneView configuration

Remote Support:

Integrated remote support for blades and rackmount servers

Migration:

Live migration from Virtual Connect to OneView

Cisco:

Monitoring and basic connection provisioning for Nexus/FEX

vCenter Integration:

now available as a vSphere appliance
Further reading/resources
Original content from 2015.
At Hewlett Packard Enterprise Discover Las Vegas 2015, OneView 2.0, the newest version of HPE's infrastructure management solution was announced. It became available for download in September 2015. In this post, Senior Solution Architect, Ryan Ollenburger shares the benefits of this platform's unified management tools such as its new addition of server profile templates and additional storage provisioning capabilities.
The primary vision of OneView has been to consolidate capabilities found in several HPE infrastructure management solutions (HP-SIM, Insight Control and VCEM-Virtual Connect Enterprise Manager) into one pane of glass. This consolidation helps automate and streamline processes used to manage infrastructure as it becomes more "converged." OneView 2.0 runs as a vSphere or MS HyperV appliance.
Here is a link to Product Details on HPE.com and an overview of OneView 2.0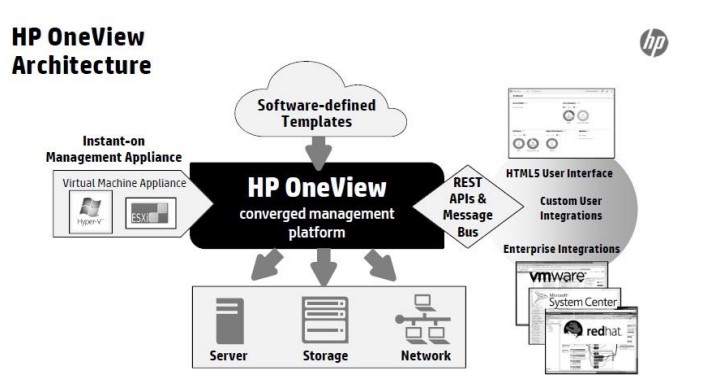 Capabilities of OneView 2.0:
Create and manage server profile templates with the ability to monitor, flag and update from the template. Templates include BIOS settings, network connectivity, firmware versions and drivers
Automated execution of firmware and OS Driver updates via HP Smart Update Tools for Windows or Linux. Firmware and OS Driver updates can be updated on a server while the OS is running. The updates will be staged and then OneView will prompt you to reboot the server. This reduces the time that the server needs to be offline during an update process. Before this enhancement, a server had to be taken offline to update its firmware.
Execute 3Par snapshots from the OneView interface
Server Profile Dashboard – additional information about servers, storage and related networking
Automatic SAN Fabric Zoning supporting Brocade, Cisco MDS and Cisco Nexus greatly reduces the time it takes to setup SAN zoning and fabrics
Detailed release notes can be found here
This list may not look revolutionary, but the biggest takeaway from the OneView 2.0 release is the ability to provision infrastructure, specifically blades, including network and storage connectivity in minutes as opposed to hours. Finally, the ease of ongoing firmware and driver management reduces future hours spent at the keyboard, allowing us to spend more time working on projects that are more valuable to the business.