By: Chris Saso, SVP of Technology

In our recent blog post, we discussed how HP was moving to a support model that required users to have active support agreements in order to access software, drivers and firmware updates for their products. In this blog post, we will discuss a capability that Dasher has to consolidate your support agreements into annualized contracts.
Most, if not all of the hardware and software suppliers we represent, offer ways to simplify the management of support agreements for the products that we provide to you.  In a typical project life cycle, a company purchases products at different times during the year or over several years. A result of this process is that sometimes one year or three years later a support agreement for that product needs to be renewed or the product needs to be refreshed.  What happens after a couple of years is that you are suddenly managing many support agreements, one for every investment you made over the past several years.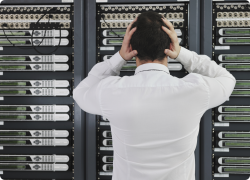 Consolidated, Co-Termed agreements from multiple IT suppliers!
Dasher works with all of our suppliers to provide consolidated billing and co-termed agreements.  Many folks can consolidate each specific vendor on one co-termed and consolidated agreement, but Dasher offers the ability to take that one step further, we can consolidate your support agreements across each vendor you work with so that you receive one invoice from Dasher for multiple hardware and software vendors.  We can even work with your finance departments to see if monthly billing makes sense for your business.  This saves you time and money!
What happens when I need to add a product that is coming off support?
During the term of an agreement you may have one or more products that were still on their initial warranty that now need to be added to the consolidated and co-termed agreement.  Contact us and we will add the product to your agreement and amend the billing amount accordingly.
What happens when I renew each year?
Dasher will send you an excel spreadsheet that contains all of the items you currently have under support.  It is a great time for you to annually review your installed systems and make changes to the agreement. Including any hardware and software that you might have forgotten were taken out of service, can be removed from the agreement.
Retiring old hardware?
Once the hardware is retired Dasher can assist you with removal and recycling of the equipment.  We can often provide this service at no charge or even provide a check or credit back to your company based on the equipment being retired.  More on this in a future blog…