By: Alyse Okumura, Marketing Coordinator & Al Chien, Executive Vice President, Dasher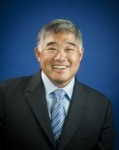 This past August at our Annual Executive Forum, I had a brief conversation with a CIO from one of our enterprise clients (a company with over $3B in Market Cap). He was seeking expert advice to help his team navigate the information overload and dramatic changes that have occurred this past year. Many of these changes that have impacted companies of all types, from OEM manufacturers, distributors, resellers to service providers and end-users. I sat down with our Executive Vice President, Al Chien to pick his brain on what this CIO was referring to and learn more about what he has seen in the IT industry, how it has affected the Dasher partner and client relationships as well as where he sees the future of IT going in the years to come.
Alyse: How has the IT industry changed in the last year?
Al: If you asked me this question a year ago, I would have bet everything that the largest IT companies would have done everything they could, to get bigger in size, because that's what the customer demanded. In this reality, we might have seen a tremendous consolidation, where the largest of the large corporations acquiring the smaller more nimble companies, such as Nimble Storage, Pure Storage, Tegile, Tintri, and Arista. All of these new, innovative, up-and-comers have surfaced over the last 2-3 years and have taken the industry by storm. I would've bet that companies like HP, EMC, Dell, and Cisco would have very prescriptively acquired them or even gone into a bidding war. The reason being, risking your own money in R&D to anticipate the needs of the customer can be an expensive proposition; especially not knowing where the industry is headed. So why not let the startups and VC-funded companies make the first investment. Then once that marketplace is defined, you can go gobble them up. Instead 12 months later, we've seen more of the large companies downsizing and separating because of the need to be diverse and be more nimble. Companies such as Ebay, Symantec, IBM, and HP have chosen to get smaller, allowing them to focus on their core competencies and methods to better serve their customers in order to make faster business decisions to address the dynamics of industry demands.
Alyse: How has the increase in innovation changed the IT provider landscape?
Al: The need to innovate has completely changed the landscape of IT, especially in the mobile/social/SaaS space. Companies like Facebook, Ebay, Google, and Amazon are buying startups, but not just to acquire the intellectual property. In fact, the developers are the real value! Rather than hiring a bunch of people, they've chosen to acquire a company and accumulate the developers just for the experiences they have. That way they can relocate resources into advancing their own technologies. Then it's up to IT solution providers and systems integrators like us, to try and help end users achieve their next business aspiration.
Alyse: Do you think customer needs are continuously being addressed?
Al: It's hard to anticipate what that next innovation or customer need is. It is not mere chance that Dasher is headquartered in Silicon Valley, the land of innovation and the hot bed of technology. Everyday people are creating new and advanced technologies. This is why the IT industry lives here and where the genesis of all of these technologies lives; to support these new-up and coming companies. I think there will continue to be advancements in innovation to anticipate and address client needs.
Alyse: Dasher has been named, CRN 2014 "Fast Growth Solution Provider 150" how does this reflect the Dasher business model?
Al: We are very proud of being named to the CRN 2014 "Fast Growth Solution Provider 150" list because it is a testament to how valuable we've become to our client and partner ecosystem. Our clients look to us for much more than transactional business. They really require a "partner", someone who is in the fox-hole with them and looking out for their best interest and anticipating their needs and helping them build an impenetrable infrastructure. That is the value Dasher brings.