By Chris Saso, EVP Technology & Hallie Barnes, Marketing Coordinator
Dasher Technologies has made our reputation on providing technology solutions that comprise best-of-breed hardware, software and services. Dasher has over 24 solution architects and service delivery personnel, and we routinely provide services that are required to assess, plan & design, implement, train and optimize our clients environments. Sometimes, when we are busy or need to augment our own staff, we call upon services partners to expand our capabilities to ensure our client's success. As mom used to say, sometimes it is about who you know and not what you know.
This blog post highlights some of these specialized services partners. We have long term trusted relationships with these partners and together we work with our clients and our dedicated project management team to make sure we deliver the business outcomes your company requires to be successful now and into the future.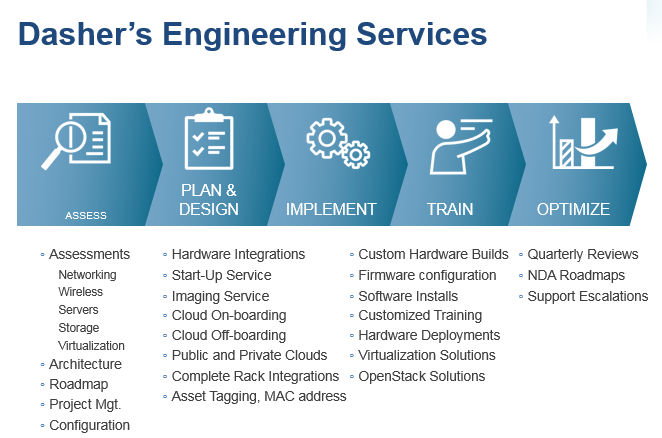 Here is a quick elevator pitch on each of our service partners.
Coyote Creek Consulting – Our go-to partner for Microsoft related services. They are experts in Exchange, O365, Sharepoint as well as managed services like service desk and datacenter management. Coyote Creek Consulting also helps us find consultants to work onsite as contractors for our clients and offers temporary to permanent staffing.
Veltec Networks – Veltec Networks offers small business consulting and managed services for networking, security and IT compliance. Veltec also enables managed IT services with the goal of preventing IT issues before they occur.
Mirapath – Mirapath specializes in the "plumbing" that goes into a data center, including cabling, thermal, power Installation and management software. Dasher leverages Mirapath to help our clients manage data center moves as well.
X-ISS – If you are thinking of leveraging high performance computing solutions for your business but do not have expertise on staff to manage the complexities of a computing cluster with 10s or 100s of nodes, give us a call and we can bring in X-ISS to work with you to setup a remote managed service for your HPC cluster. They are experts in managing HPC and work with us and our clients on implementing solutions like ANSYS. Read our case study Leveraging Simulation Software to Accelerate Time to Revenue about X-ISS and ANSYS.
ConnectSolutions – As the world moves to IP based communications, the rise of solutions like Skype For Business have been on the minds of our clients more and more. We formed a relationship with ConnectSolutions in 2014 because they are a premier provider of Skype for Business and Adobe Connect solutions. Their staff is made up of leading former Microsoft employees that know how to work with existing telephony systems and weave them into a solution that incorporates Skype for Business or Adobe Connect.
Demand Solutions Group – Dasher works with Demand Solutions Group on projects related to CRM, ERP, & FP&A solutions that are based on NetSuite, SalesForce and Adaptive Insights.  Demand Solutions Group clearly understands the intricate relationships between system functionality, business solution and system adoption to ensure your solutions are implemented successfully
Zefflin – Zefflin is a team of expert consultants that help with implementing and integrating data center automation solutions with public and private cloud offerings based on technologies like Openstack, AWS, Microsoft Azure and VMWare.
Thorium & Greenlight Analytics – If you are looking for Big Data experts, Thorium and Greenlight offers a great place to start. Dasher has worked with both of them on many projects that include helping our clients define their big data strategy, implementation and execution plans. They are both experts in areas such as HP Vertica and automation.
Suggested continued reading: Meet Scott Ancha Dasher's VP of Engineering & IT Services